TOMB is a new piece for amplified alto flute, video and electronics commissioned by Gavin Osborn (with funds from the RVW Trust).
The first performance is on Thursday 13 December at 1.10pm at the Martin Harris Centre for Music and Drama, The University of Manchester. It's a free event open to everyone, and also features music by Elizabeth Ditmanson, Kelly Jayne Jones, Rachel Graff and Sarah Keirle. Info here.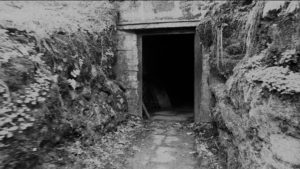 TOMB is an underground adventure, an exploration of an unknown location, an attempt to navigate, a discovery of lost things, a place to become lost…
Inspired in part by the fictional (?) house of changing dimensions in Danielewski's novel House of Leaves (2000), TOMB places the performer in a disconcerting environment they may never leave.
An abandoned copper mine in Alderley Edge – Wood Mine – was the location for the film. A map of the mine informed the modular structure of TOMB: the flute player must navigate the interconnected regions of the mine, following a confusing array of signposts. These regions correspond to the areas of the mine seen in the video, and are named as follows in the score:
ENTRANCE ADIT/MAZE/FLUX/CAVERN/EXERTION/DEPTHS/DEAD END…
Areas may be explored in any order, and the work is designed to be of flexible duration.
TOMB is part of a collection of works exploring sonic realisations of ideas deriving from mazes and labyrinths (design, literature, psychology). The score employs idiosyncratic maze-like notation, and features a defaced 'artefact' page from my piece House of Mazes (2017).
TOMB was commissioned by Gavin Osborn with support from the RVW Trust and Royal Holloway University of London.
My thanks go to Stuart Spray for the camerawork and filming equipment, James Walker for editing the film, Derbyshire Caving Club and Nigel Dibben for our fascinating tour of the mine and access to film there, and Gavin Osborn for his generous collaboration.